Visiting the Eternal City of Rome is more than just a holiday, it's a trip back in time through the mists of 3,000 years or more of history.
Monuments tower over narrow cobbled streets and hidden delights lurk around every corner. Museums are full of its artistic heritage and gastronomic delights wait to be discovered.
If you don't want to waste your time in Rome and be sure of not missing anything then make sure you're organized by following our suggestions for a perfect weekend of 3 days in Rome.
DAY ONE
Sitting at Rome's heart is the Vatican City, the smallest country in the world.
Take our advice and arrive early to beat the crowds and savor its artistic and architectural delights to the full and we suggest booking museums in advance to avoid the long queues.
Take a few minutes out of your morning to enjoy a cappuccino while writing your postcards. Then before you leave pop into the Vatican Post Office and mail them. They'll probably arrive before you, it's reputed to be the most efficient postal system in the world!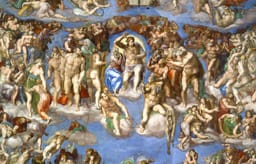 Start your visit to the Vatican City with the Vatican Museums which contain priceless works of art including Michelangelo's famous Sistine Chapel ceiling. With your pre-booked tickets, you slip easily through the massive bronze doors of the museums to wander through collections of Roman art and sculpture as well as admire the frescoes of Raphael and Fra Angelico.
After a quick lunch admire the splendor of St. Peter's square which spreads out in front of St. Peter's Basilica. It fills up with the faithful on Sundays and religious holidays when the Pope address the crowds from his balcony.
Peter the Apostle was killed and buried here nearly 2000 years ago, a place of martyrdom which became the site for the first church. In the present church, Bernini's magnificent Baldacchino covers the main altar, its site still above St. Peter's tomb.
Enjoy a gentle stroll along the banks of the River Tiber until you reach the beautiful basilica of Santa Maria in Trastevere. Dedicated to the Virgin Mary legend says it was built on the spot where a fountain of oil sprung from the earth. Take in its beautiful 17th-century wood ceiling and the six Cavallini mosaics, as vivid today as when created in 1291.
Lively Trastevere is the perfect place to finish your first day in Rome with restaurants and cafes lining its cobbled streets. It's a place where the locals spend their evenings, enjoying an "aperitivo" before and after they dine. If you've worked up an appetite tuck into a hearty plate of Spaghetti Carbonara, a dish with definite Roman roots. It's laden with eggs, bacon, cheese and finished with lashings of black pepper.
DAY TWO
Sometimes it seems as if every tourist in Rome is queuing at the gates of the towering Colosseum so once again it's a good idea to buy tickets in advance.
Once inside, your visit takes you on a meandering journey from the underground Hypogeum where the prisoners and animals were held in cages and gladiators waited, up through ranks of stone seating to the giddy heights of the amphitheater - a perfect photo opportunity.
The Colosseum, commissioned by Emperor Vespasian is still the largest amphitheater ever built.
The imposing Arch of Constantine stands between the Colosseum and the Roman Forum and the Palatine Hill.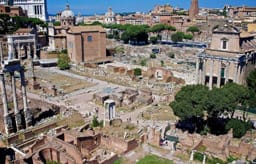 The Roman Forum is where the people of Rome came to worship and do business. Only rediscovered in the 18th-century, today the Forum is one of the world's most important archaeological sites. See if you can spot the ruins of temples and ancient government buildings.
The Palatine Hill is covered by the ruins of aristocratic homes. Now a pleasantly uncrowded site it's not hard to imagine its streets bustling with former life. Make sure to take plenty of photos, the hill offers panoramic views of Rome from its crest.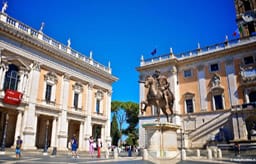 When hunger strikes go to the Capitol Hill area. Among the many restaurants and cafes look for one serving pasta topped with a classic Amatriciana or Gricia sauce. These rich sauces are based on cured pork cheek cooked with pecorino cheese, tomatoes and onions. Delicious and filling!
After lunch climb the Hill where you'll discover a collection of palace museums. Before you leave the district, marvel at the Vittoriano, a white marble extravaganza. This lavish confection was started in 1885 to commemorate Victor Emmanuel II, a united Italy's first king. Take the Roma dal Cielo lift to the roof for one of the best 360-degree city views.
Take a break from history and shop for souvenirs on the Via del Corso, a main shopping street since Roman times. The best things to buy in Rome are, of course, quality Italian leather goods, as well as artisan jewelry inspired by the city's archaeology and engraved marble tablets.
The famous Piazza di Spagna flanked by the iconic Spanish Steps and home to Bernini's Barcaccia Fountain is an ideal stopping point for a refreshing ice cream.
DAY THREE
Start your last day in Rome with a visit to the Galleria Borghese home to one of the world's largest private collections of art. The gallery sits in the extensive Villa Borghese park which seems to crown Rome with a lush green canopy. Originally a private vineyard it's a tranquil escape from the Summer heat with its mix of formal and wild gardens.
The Piazza del Popolo is full of churches and monuments and the perfect place to stop for a refreshing Grattachecca. Unique to Rome a Grattachecca is a cold treat of ice slivers infused with orange or cinnamon flavored sciroppo syrup.
Once refreshed, step into the shady interior of the Church of Santa Maria del Popolo. With an elegant facade by Bernini, it's said to be on the site of Nero's burial.
Wander through Rome's maze of narrow streets until you come across the Trevi Fountain. This Baroque extravaganza is dominated by Triton driving a chariot. Don't be tempted to splash into the water as Anita Ekberg does in Fellini's film La Dolce Vita but do throw in a coin and make a wish before you part.
The Pantheon or Temple of the Roman Gods calls you next. This record-breaking building has the biggest brick dome in architectural history. The present Pantheon was built by Emperor Hadrian and is a testament to his exotic tastes.
A quirk of the building is the famous Oculus, a 9m central hole in the dome. It was a brilliant idea! There are no windows in the Pantheon so light streams like a river through the Oculus, becoming particularly intense towards midday. It also lets the smoke from sacred fires escape.
Your time in Rome is coming to a close and there's no better way to end than by enjoying a romantic meal in Piazza Navona.
It's one of Rome's most breathtaking squares and has always been a place of entertainment as it sits on the site of Rome's first stadium. Today's its entertainment is all about open-air restaurants and cafes.
Make the most of them by enjoying an al fresco meal of Saltimbocca Alla Romana. This local specialty is made from tender young beef topped with prosciutto and fresh herbs, all cooked in wine. If you've enjoyed your few days in Rome why not plan your next visit to this beautiful city as you dine?