If you want to experience the true face of Italy, leave the big cities which are overrun with tourists, overpriced accommodation and food and travel instead to Lucca in Tuscany.
Here you'll find a slower pace of life, traditional Lucchese food and unique experiences found only in this region. Being the birthplace of Puccini, who is still considered one of the most influential composers of opera, you'll undoubtedly hear his music whilst visiting the area.
The city perfectly blends ancient history with a modern day lifestyle for its residents and guests. Use the list below as a travel guide of things to see and do during your visit.
7. Relax in Lucca's botanic garden

The city's botanical garden has an interesting history which began with the sister of Napolean Bonaparte. It was her love of plants and financial support which started this, as not just an garden for visitors but as a potential source of medicinal plants.
After changing hands many times the garden is now operated and maintained by the city. Visitors will find this an ideal place to take a peaceful stroll past many tropical and unusual plants. The botanical garden holds many tissues, seeds and other genetic material of numerous plants. This is a one of many such 'plant banks' around the world.
6. Enjoy the beautiful garden of Palazzo Pfanner

Whether you love gardening or just appreciate spectacularly maintained gardens, you should definitely make your way to the Palazzo Pfanner to see the gardens of this palatial home.
Although some of the rooms of the house are open to tourists, the gardens are the main attraction. With water features, statues and ornamental plants this is an excellent example of a baroque garden.
5. Rent a bicycle and wonder around Lucca

The best way to see the city is by bicycle. Enjoy the freedom of a town dedicated to cyclists and pedestrians for a leisurely bike ride. Travel atop the city's walls for a continual view of the surrounding area.
Hire bikes at Tuscany Rent a Bike, Via Elisa 26. There you can rent bikes or organize a guided tour of various sites around the town or further afield.
4. Lucca Comics & Games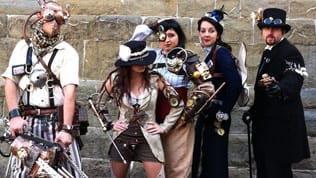 The city hosts the International Festival of Comics and Games at the end of October. The second largest exhibition of its kind in Europe and the pinnacle of the city's calendar in which attendee numbers reach over 200,000. Home to Lucca Comics and Games, expect to see many visitors arrive in costumes of their favorite characters.
There are pavilions for vendors, and designers to showcase their latest developments. Stages are erected for cosplay (costume play) featuring many well known comic and games creations.
Awards are given for the year's best illustrator, cartoonist, newcomers, foreign artist and lifetime achievement. This is a must see for those interested in cartoons, anime, manga, and games.
3. Discover a secret garden in the Guinigi Tower

If you think that gardens are only at ground level, think again. You can experience a secret garden high above the city when you make your way up into the Guinigi Tower. Although the town boasts many high towers, none is more interesting than the Guinigi Tower as it has trees on the top of it.
Visitors who make the climb are rewarded with a spectacular panoramic view of city and hills beyond. This is one of the most popular attractions for tourists.
2. Step back in time in piazza dell'Anfiteatro

Don't miss the opportunity to see the Piazza dell'Anfiteatro during your stay. This circular open air area once was the location of a Roman amphitheater which could seat 10,000 people.
The architect Nottolini turned a disused ruin into the much loved area it is today, with houses encircling this historic and unusually shaped piazza. Now this area plays host to various markets and provides the city with another piazza to enjoy.
1. Walk along the old city walls

Where many towns have removed the city walls, Lucca has preserved theirs and they are used and enjoyed every day by tourists and residents of this pretty community. At 4km long and with 11 bastions, which are plant with trees, these provide a shady place to enjoy the view and relax.
Although the walls were started in the medieval period, they were finished in the renaissance during which time the defense needs had changed. Where once it was merely arrows the city needed to fend off, in the end it was canons. Hence the thickness of the walls you see today.
–––
The best time to visit is spring through autumn for pleasant weather and to enjoy this pretty and historic town to its fullest. If you're arriving for a festival, be sure to book accommodation early to ensure your place.