Rome, and the Colosseum would pop to mind with its gory history of savage lions, brave gladiators and captive audience.
Think romance and you'd probably veer towards Venice but Rome, with its hidden cafes, ivy encrusted alleys and beautiful lookouts makes for one very romantic setting. The Italians of Rome, the modern-day Romans or the "Romani" are a passionate lot and the architecture and picturesque views reflect their ardor. Here are the ten most romantic spots of Rome, in no particular order...
1. The garden of the Oranges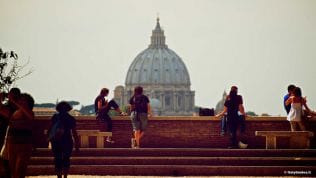 What's so romantic about an orange garden?
The fragrant orange blossoms, fantastic views of many of Rome's magnificent monuments and the gorgeously sun-dappled walkways make the Giardino Degli Aranci, also known as the Parco Savello a beautifully romantic place to be in Rome.
The garden lies behind the Basilica of Santa Sabina and to one side lie the beautiful ruins of the wall that once surrounded the Savelli Castle. You can hire a Segway or walk to the garden from the Circus Maximus.
It takes some effort but is completely worth it. So come and watch the sun set amidst the beauty that is Rome, surrounded with the citrusy scent of oranges and in peaceful silence; and be prepared to let passion overtake you as you kiss your loved one.
Romance is in the air when it comes to the garden of the oranges and the silence lends itself to the intimacy beautifully.
2. Villa Borghese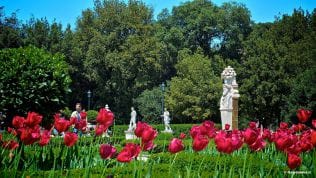 The Villa Borghese (no, not the film - the actual villa) was built by architect Flaminio Ponzio and commissioned Scipione Borghese who used it to throw parties and house his impressive art collection - now displayed at the Galleria Borghese museum.
But looking at art while is an excellent way to pass time, it's not what makes the Villa Borghese romantic. For some romance, it's the gardens you must see with its huge trees, many statues, hidden little fountains and even a little pond.
The setting is absolutely romantic be it for a stroll, conversation or just some quality time. If rowing a boat on a picturesque little lake hold more romantic appeal to you then visit the Temple of Aesculapius at Villa Borghese - where you can rent a boat and spend a romantic evening gazing into each other's eyes.
3. Pincio Gardens
If a peaceful, cosy and lush garden sounds like an idyll tryst destination then head to the Pincio gardens - linked to Villa Borghese via a pedestrian bridge.
Else hire bicycles, carriages or even segways to spend a more active date - Pincio gardens basically will give you an entire view of Rome and has excellent cafes to catch a bite at.
There's a small lake in the middle with many benches around and chances are you'll find many a canoodling couple there.
An ideal place to have some coffee, conversation and kisses! If you get bored, you can even catch a mini steam train to the Borghese garden instead.
4. Ponte Sant'Angelo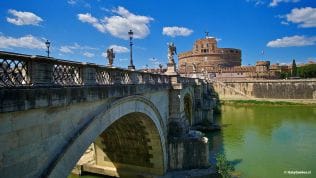 Once a bridge accessed by a ramp on the River Tiber that it spans, the Ponte Sant'Angelo aka the bridge of angels is now solely pedestrian and provides beautiful views of Castel Sant'Angelo.
For a bridge that is now quite the kissing destination, it has a gory past.
For centuries after the 16th century, it was used to display the bodies of those executed by the church - for heresy and other crimes.
Even before that in 1450, when the pilgrims used the bridge to get to St. Peter's Basilica, the bridge collapsed drowning many of them instead.
Now it's a dream to walk on during twilight hours - the languid water, the reflecting lights - all just add to Rome and your lover's allure.
5. Campidoglio
If you know anybody who's had or planned an Italian wedding, then you must have heard of Campidoglio or the Capitoline Hill being one impressive and romantic backdrop for nuptials.
The Piazza itself was designed by the magic hands of Michelangelo - it provides scenic views to the ancient city of Rome, is peaceful and quiet enough for an intimate conversation and is dotted with cafes and a museum. Step into the piazza and you would feel the ancientness of the city come alive - it's a romantic spot like none other.
Again, Rome is great in the day but magical at night - strolling through Campidoglio at night can definitely up the romance in your soul and body.
6. Trevi Fountain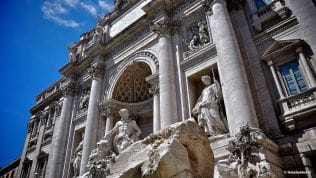 Clichéd? Sure, but who could deny the magic of this wishing fountain which contains coins of many international currencies thrown by travellers who follow this ancient tradition practiced by soldiers wishing for goodwill and a quick return to Rome!
There's also a miniature fountain on the left side that has given birth to another lover's lure - couple that drink from it together will stay faithful forever.
Immortalized by icon Anita Ekberg, who famously waded into the fountain in the classic movie "La Dolce Vita" - the Trevi fountain is definitely a must visit when it comes to romance in Rome!
Maybe you too could hear her siren song, "Marcello, come here. Hurry up!"
7. Gianicolo Hill
If you want to capture Rome's spirit in one breathtaking panorama - a visit to the Gianicolo Hill is a must. The view is captivating and perfect for lovers to plan a tryst or picnic at.
There are plenty cafes and canteens selling drinks and refreshments so you don't really need a picnic basket - though a pre-packed one with chocolates and champagnes would definitely add to a lover's euphoria.
If you are up for some exercise then do walk up the hill but taxis are available if you plan on expending your energies in something more intimate later! Lesser tourists, beautiful views, a lovely green cover and plenty of food choices make this an ideal romantic destination of Rome.
8. Lungotevere
Built for very practical purposes, the Lungoteveres were massive walls constructed to eliminate the recurrent flooding of the River Tiber in 1875.
Now Lungotevere is an alley or boulevard running alongside the river and hold great romantic appeal especially during twilight. Lean over the balustrade and gaze into the depths of Tiber as you feel your better half beside you or else just stroll along the boulevard hand-in-hand as you contemplate the magic of your relationship and that of Rome.
The views are great and it's easy to lose yourself into the ardor that only Rome has - as any Roman would tell you!
9. Ponte Sisto
So yes, Rome has many bridges. If Ponte Sant'Angelo's rather bloody past ruined the romance then try strolling across Ponte Sisto's almost confectionary appeal - reminiscent of the arches on wedding cakes.
Made famous by its central eye or oculus in many movies and songs - the bridge spans Tiber in four giant arches. In fact most news channels were rife with Roman Catholics protesting against the impending use of 007 leaping from a helicopter onto the bridge and so Daniel Craig's latest Bond movie Spectre seems to have come to a Roman standstill.
Whether Ponte Sisto finally makes it to the movies or not will go down in the annals of Hollywood history, a stroll across it will definitely put you and your lover in a loving and romantic mood.
10. Hidden cafes and hotel rooftops
Not exactly one place or any particular spot - the magic of Rome is apparent in every alley café or rooftop bar. The cafes are budget, the rooftop restaurants of most hotels are not - you would have to shell out a decent amount for drinks.
The views are magical, romance is apparent in the menu and the architecture lends itself to the intimate setting you want. You'll have to find your very own café or rooftop place - for different couples, its different.
For some it's the pizza and beer and a hidden alcove like café, for some it's champagne and rigatoni - the bill may be steep but the meal, and the memories, will always be priceless!