Knights of Malta (Piazza dei Cavalieri di Malta)
Not far from the complex of Sant'Anselmo, high on the Aventine Hill, via di Santa Sabina opens onto the quiet Piazza dei Cavalieri di Malta. Bordered by a high wall, decorated with neoclassical obelisks and military trophies, it leads to a famous and fascinating broad wooden door.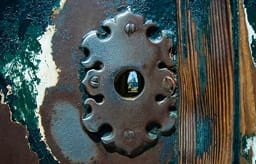 Known affectionately by Romans as the "Hole of Rome" its abiding attraction draws queues of visitors to this peaceable "out of the way" spot. No key is required: it is sufficient to put an open eye to the keyhole, and focus.
With kaleidoscope charm, a vision of St Peter's dome (affectionately known to Romans as the "Cuppolone") perfectly in perspective, framed by the tops of trees in the foreground, opens up. Often wrapped in a thin mysterious mist, seems to stand at the end of the garden path, just beyond the door.
Originally, the area was the site of a fortified Palace belonging to Alberico II. In 939 it became a Benedictine monastery run by the abbot Oddone of Cluny. In the Twelfth Century, it passed into the hands of the Knights Templar the famous warrior monks, who in 1312, were violently suppressed by Pope Clement V.
The monastery then became the seat of a priory belonging to the Gerosolimitani (known as The Knights Hospitaller). In the second half of the 1400's, Pope Paul II granted the monastery to the Sovereign Military Order of Malta,
The numerous owners the building has had during its varied history, correspond to the changes in its structure. At the end of the Sixteen Hundreds, CardinalBenedict Pamphilj even transformed it into a coffee house which, for a spell, became a popular haunt of artists.
The present structure is the work of the famous architect and engraver Giovanni Battista Piranesi who restored the building in the second half of the 1700's.
The Aventine Hill had always been compared to a ship, and since the time of the Knights Templars, it was said to be ready to raise anchor, catch the tide of the Tevere, and set sail for the Holy Land.
Building on this popular idea, Piranesi's construction of the complex combined this sea-going theme with the memory and myths of the Templars. The obelisks in the square represent masts, whilst the shrubbery and labyrinth of gardens beyond the door, denotes the ship's ropes. All Piranesi's decorations and architecture is symbolic and rich in mysterious esoteric meanings relating mainly to Masonry, comprehensible only to those who possessed the right key reading.
The garden's decorative fountain is surrounded by impressive archeological remains and a well, engraved with the date 1244.
Beyond the magical door and its bewitching view, the complex holds the church of Santa Maria del Priorato, also known as Santa Maria Aventina, and a Villa, whose rooms are filled with portraits and valuable paintings.