Capri has been a favored destination since time immemorial.
From the days when Emperor Tiberius entertained famously in his island villa, visitors to Capri have enjoyed its culinary traditions centered around fresh produce and seafood. Some delights are now world-famous while others wait on the island for visitors to discover.
Caprese Salad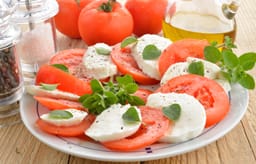 Named for the island this light salad is perfect summertime dish, created at the Trattoria da Vincenzo in the 1950s when guests wanted just-picked tomatoes combined with cow's milk mozzarella.
Caprese Salad also includes wild arugula, wild oregano and a drizzle of olive oil.
The super fresh ingredients bring out the full flavor of this delicious salad.
A heavenly variation is the Panini Caprese - where fresh bread is filled with Caprese ingredients and grilled until the cheese melts.
Arancini
Arancini are tempting titbits that resemble small oranges, so called as arancini is the Italian diminutive for oranges.
They're served as bar snacks all over Capri. These rice-balls are made with leftover risotto rice mixed with different ingredients and deep-fried.
Popular fillings include local cheeses and hams or different vegetables. When dipped into a warm tomato sauce their flavor is lifted to a new level.
Filled zucchini flowers
This Capri specialty delivers the real taste of spring. Zucchini flowers are filled with salty sea anchovies and sweet, creamy ricotta.
Once deep-fried they make a tempting finger food.
A traditional way of getting the most out of garden and field produce.
Impepata di Cozze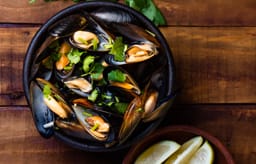 If you love seafood you'll love Impepata di Cozze, or peppered mussels.
It was only natural that the island made use of its coastal harvest, giving birth to this irresistible recipe. It only needs mussels, garlic, white wine, pepper, and parsley.
Be sure to eat it with some freshly baked bread.
Linguine with Seafood
Linguine is a pasta that falls between spaghetti and fettuccine in size.
This Capri linguine classic delivers the full flavors of local seafood.
Clams and mussels are gently spiced with red pepper and cooked in vegetable broth then tossed with fresh linguine.
Scialatielli
Scialatielli is a new pasta created in the 1960s by Chef Enrico Cosentino.
The name translates to ruffled for its obvious hand-cut shapes which are sometimes given a green color with the addition of spinach.
Like the linguine, it is cooked with seafood.
Chiummenzana
Chiummenzana is a tomato and herb sauce that's full of Mediterranean tastes and aromas.
You will find it in many pasta and meat dishes or used as a tasty dip for your arancini.
Seafood and Fresh Fish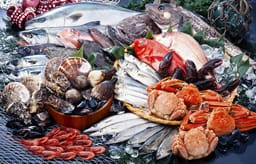 Nowhere on Capri is far from the sea and its delicious harvest, putting fresh fish and seafood high on any restaurant menu.
Eat your fish simply grilled or sample local delicacies like anchovies marinated in vinegar or the hearty dish of pezzogna all'acqua pazza.
Pezzogna or big eyefish is caught locally, fried with garlic then finished with tomatoes and white wine.
Cuttlefish with Potatoes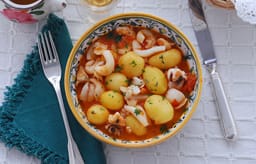 Similar to calamari but with a stronger taste, cuttlefish is a Caprian staple.
Prepared with night-caught cuttlefish, this dish is typically served with a slice of toasted bread.
Like many island dishes, tomatoes and wine accompany the cooking but the addition of potatoes gives it a heartier finish.
Torta Caprese
Now it's time for dessert. Enjoy tucking into this typical almond and chocolate cake.
It is served in slices dusted with icing sugar.
Legend has it that Torta Caprese was created when an Austrian princess married into the Naples' royal family and pined for her country's Sacher Torte.
Not knowing the recipe, local chefs improvised with native almonds.
However it came about, it is definitely delicious.
Limoncello
Traditionally meals on Capri are finished with a shot of limoncello.
Using Capri's organically grown lemons, the recipe is so easy that many families make their own versions.
Lemon peel is infused in alcohol for several weeks before being bottled. With a shelf life of up to three years, it makes the perfect souvenir of your island visit.